Are you tired of dealing with the discomfort of bloating and gas? Say goodbye to digestive woes with the help of yoga asanas. In this comprehensive guide, we will explore a selection of yoga poses specifically designed to alleviate bloating and gas, allowing you to experience relief naturally. Let's delve into the world of yoga and discover the power of these asanas for a happier and healthier digestive system.
Understanding Bloating and Gas
Before we jump into the yoga asanas, let's take a moment to understand what causes bloating and gastric problem. Bloating refers to the feeling of fullness and tightness in the abdomen, often accompanied by a visible increase in the abdominal size. Gas, on the other hand, is the result of trapped air in the digestive system, leading to discomfort, belching, or flatulence. These conditions can be caused by various factors such as improper digestion, dietary choices, stress, or certain medical conditions.
Yoga Asanas for Relief From Gas & Bloating
Wind-Relieving Pose (Pawanmuktasana)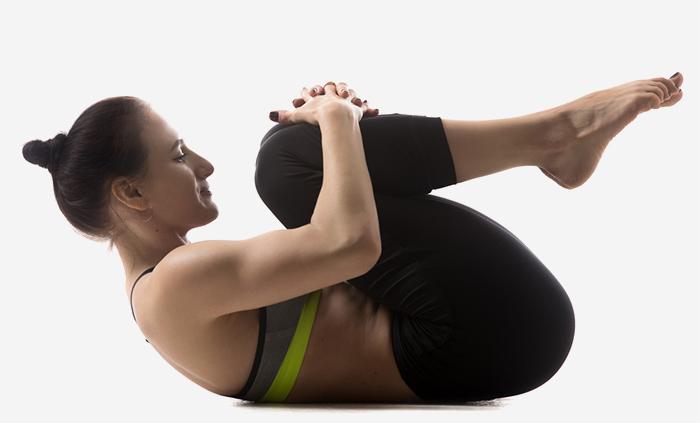 Lie flat on your back with your legs extended. Bring one knee towards your chest and clasp your hands around it. Gently press the knee into your chest, holding the pose for a few breaths. Release and repeat with the other leg. This asana helps release trapped gas and relieves bloating.
Seated Forward Bend (Paschimottanasana)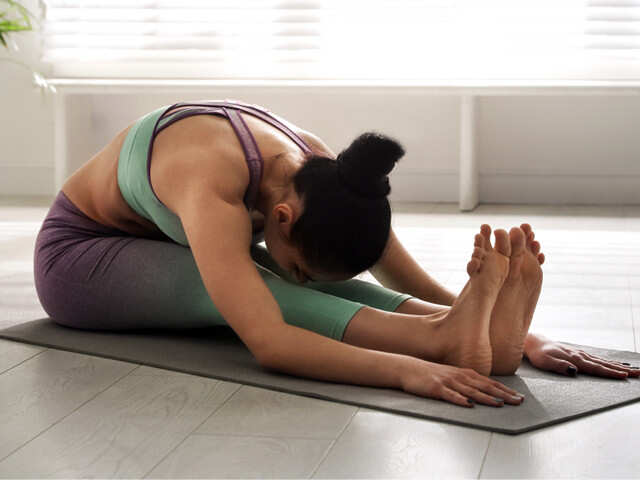 Sit on the floor with your legs extended in front of you. Slowly bend forward from the hips, reaching towards your feet or shins. Keep your spine relaxed and hold the pose for a few breaths. This asana stimulates digestion, relieving bloating and gas.
Cat-Cow Pose (Marjaryasana-Bitilasana)
Start on your hands and knees in a tabletop position. Inhale as you arch your back, lifting your tailbone and head (Cow Pose), then exhale as you round your spine, tucking your tailbone and chin (Cat Pose). Repeat this flow several times. Cat-Cow Pose helps massage the abdominal organs, promoting digestion and relieving gas.
Extended Triangle Pose (Utthita Trikonasana)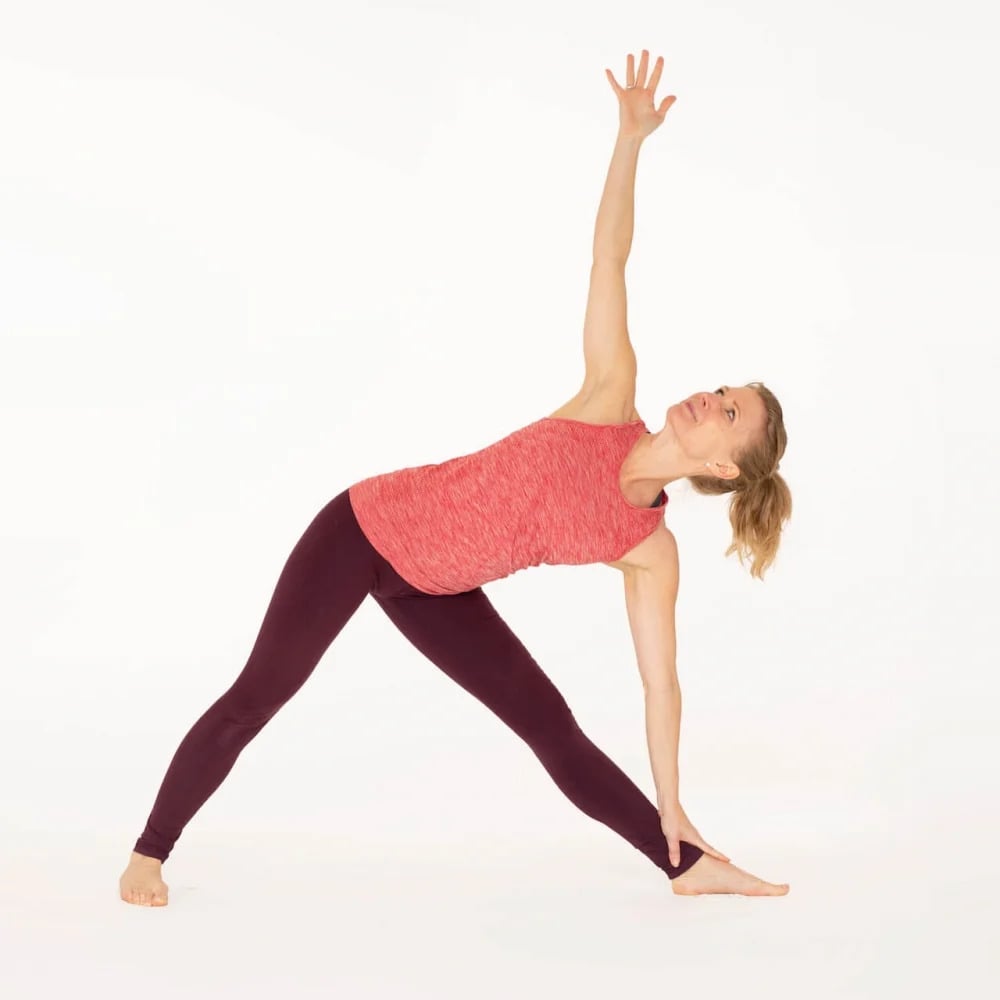 Stand with your feet wide apart. Turn your right foot out and extend your right arm towards the right foot, keeping your left arm extended upwards. Maintain a straight line from your fingertips to your extended foot. Repeat on the other side. This asana stimulates digestion, relieves bloating, and stretches the abdominal area.
Bridge Pose (Setu Bandhasana)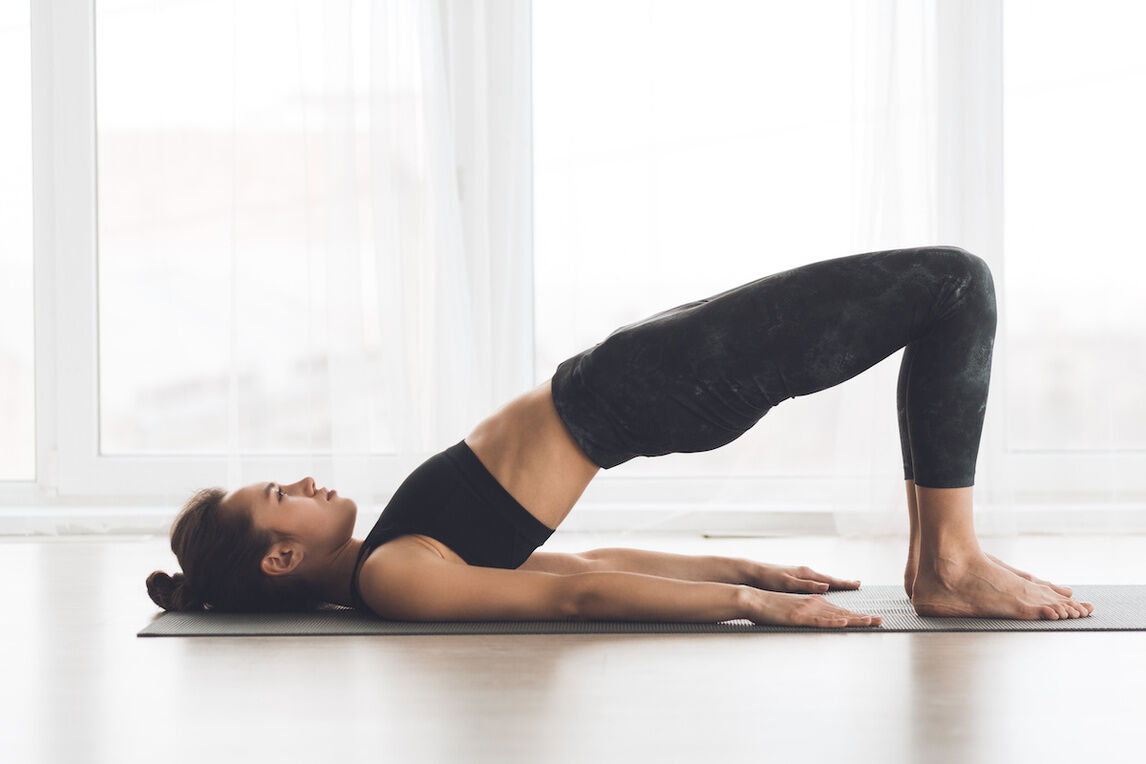 Lie flat on your back with your knees bent and feet hip-width apart. Press your feet into the floor and lift your hips, creating a bridge shape with your body. Hold the pose for a few breaths, focusing on deep abdominal breathing. Bridge Pose massages the abdominal organs, aids digestion, and relieves bloating.
Practice Mindful Eating
In addition to incorporating these yoga asanas into your routine, practicing mindful eating habits can also contribute to reducing bloating and gas. Chew your food thoroughly, eat slowly, and avoid overeating. Include fiber-rich foods such as fruits, vegetables, and whole grains in your diet. Stay hydrated and limit the consumption of carbonated beverages and foods known to trigger bloating and gas.
Conclusion: Embrace Digestive Wellness with Yoga
By incorporating these yoga asanas into your daily routine and adopting mindful eating habits, you can effectively reduce bloating and gas while promoting overall digestive wellness. Remember to listen to your body, practice with consistency, and consult a healthcare professional if you have any underlying medical conditions. Embrace the power of yoga to restore balance and comfort to your digestive system. Say goodbye to bloating and gas and welcome a happier and healthier you!